1. Takeaway and home delivery: 11:00 to 18:00 Tuesday to Sunday
2. Place an order from 10:00: BY PHONE: +36203796895 OR BY E-MAIL: ertekesites@jardinette.hu
3. Delivery areas
Sashegy, Sasad, Gazdagrét, Madárhegy, Hosszúrét, Mártonhegy, Széchenyi-hegy, Orbánhegy, Istenhegy, Kissvábhegy. If you order elsewhere, please let us know by phone!
4. Payment: cash at delivery or at takeaway in the restaurant.
5. Delivery fee :790 HUF,  there IS NOT minimum order amount.
WARNING: According to a study by the European Food Safety Authority, the coronavirus no longer infects cooked food. In our restaurant, the rules of preparation and packaging are extremely strict, which we pay even more attention to in the current circumstances.
SOUPS
Celery cream soup with sausage crumbles 990 Ft
Celery cream soup with sausage crumbles – FAMILY (4 portions) 2 990 Ft
Our Chef's soup: Deer ragout soup with tarragon 1 390 Ft
Our Chef's soup: Deer ragout soup with tarragon – FAMILY (4 portions) 3 990 Ft
Meat soup from cock with semolina dumplings 1 190 Ft
Meat soup from cock with semolina dumplings – FAMILY (4 portions) 3 990 Ft
MAIN COURSE
Green pea stew with roasted sausage 2 500 Ft
Green pea stew with falafel 2 500 Ft
Our Chef's Special: Spicy duck breast ragout with safran rice 2 690 Ft
Wild boar stew with forest mushrooms with Swabian Knödel 2 790 Ft
Wild boar stew with forest mushrooms with Swabian Knödel – FAMILY (4 portions) 9 860 Ft
Wienerschnitzel pork cutlets with green pea rice 2 690 Ft
Wienerschnitzel pork cutlets with green pea rice – FAMILY (4 portions) 9 490 Ft
Duck leg confit with onion mashed potatoes and steamed red cabbage 2 790 Ft
Duck leg confit with onion mashed potatoes and steamed red cabbage – FAMILY (4 portions) 9 860 Ft
Chicken Supréme with wild garlic mashed potatoes and grilled vegetables 2 690 Ft
DESSERT
Homemade glutenfree chocolate cake 1 290 Ft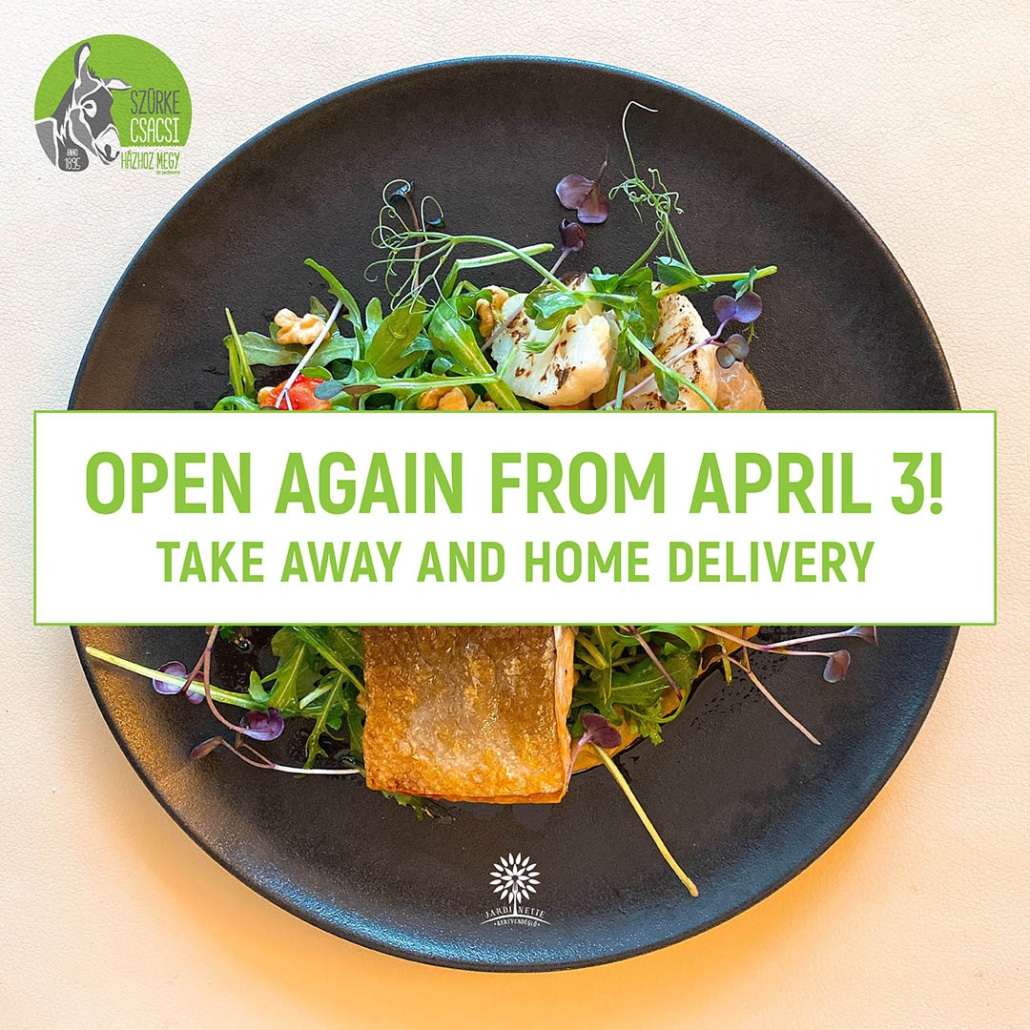 https://jardinette.hu/wp-content/uploads/2020/04/hazhozszallitas_eng_insta5.jpg
1080
1080
Étterem Jardinette
https://jardinette.hu/wp-content/uploads/2019/09/jardinette_logo_vegleges.png
Étterem Jardinette
2020-04-10 11:42:56
2020-04-10 11:44:58
HOME DELIVERY AND TAKE AWAY